After running Innocent Bones for over 2 years now, I thought it was about time I started writing about our story and sharing advice, tips and stories with you. 
After all we wouldn't be where we are now without you...so it's only fair we share the love!
SO WHERE DID IT ALL START 
I come from a VERY creative family background, with artistic influence surrounding me from an extremely young age. I was encouraged to get creative, and trust me I tried everything! 
Drawing and illustration - sucked at it, didn't enjoy it!
Painting and watercolour - sucked at it, didnt enjoy it!
Textile design - not great, given that I suck at drawing!
Embroidery and cross stitch - not actually too bad, and I LOVED it!
I started cross stitch around age 8, I learned firstly from my step-mum who showed me the basics. I learned how to read patterns, how to do basic stitches and how to really enjoy the process of stitching. 
After about 2 years of gifting people pretty terrible cross stitches, I gave up the art to persue photography. I kept this up until my early twenties, gaining a Degree in Commercial Photography and developing a love for all things analogue.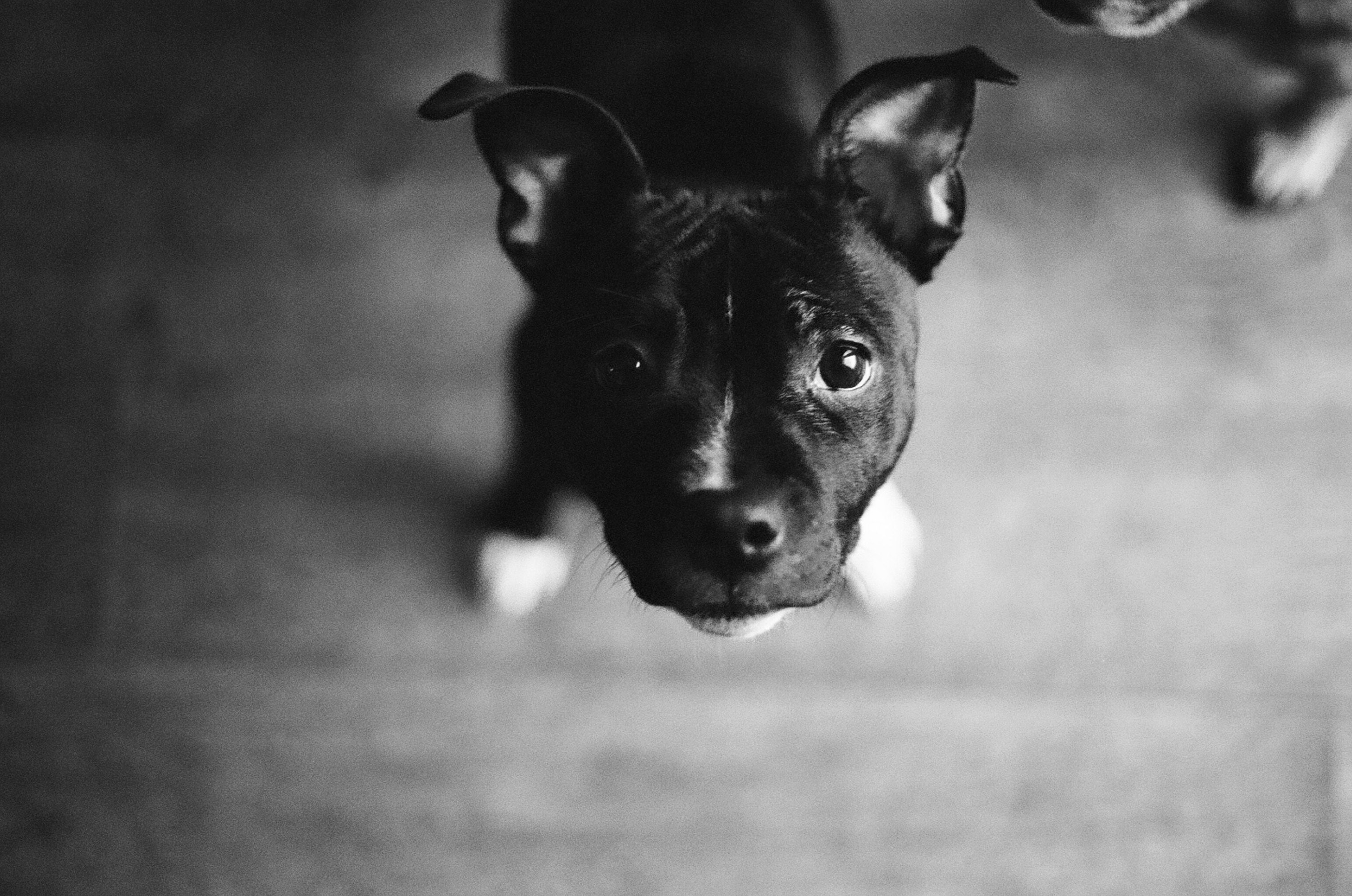 It wasn't until I was 22 that I picked up a needle and thread again, that's where things get interesting!
WHY CROSS STITCH?
Anyone who loves to cross stitch or has dabbled in embroidery in the past will know that it's a great way to relax. 
For me it was an opportunity to switch off from the daily grind, retreat into my happy place and shut my 'normal' brain activity off for a while. I started taking a few hours a week for myself, curling up with the dogs and a cross stitch, and just generally winding down.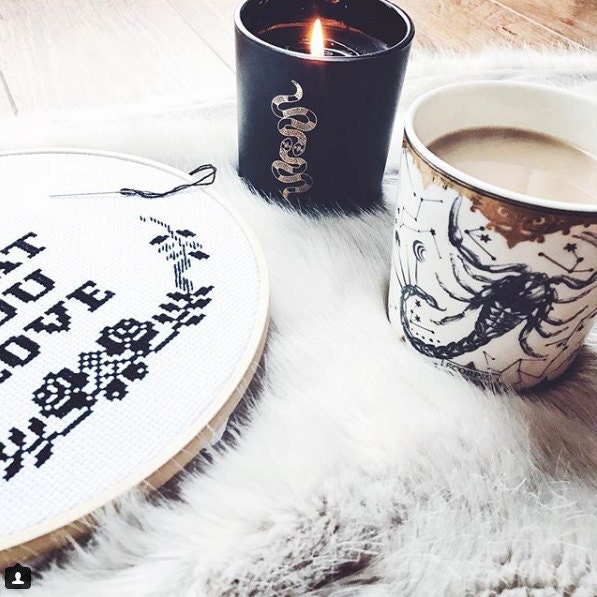 I like to think that I'm a pretty organised person. My life and work space can usually be chaotic and busy but I prefer to label it as 'organised chaos'! I need to have logical order, always make lists and I have to do everything in a particular way. 
That's why I'm a cross stitch addict! 
Cross stitching is logical, it follows clear rules, it's easy to track your progress and identify if you've gone off track. 
SHIT, I CAN'T FIND A PATTERN I LIKE
After a while I realised that although I'd been enjoying cross stitching, I was just hoarding all my completed stitches in a box, never to be seen again. 
Why? 
Because I wasn't actually that keen on any of the patterns I had been following. I found most of my patterns online or in old books that I'd been given, but they were all pretty basic. They were all pretty and visually pleasing, but just a bit boring for my tastes. 
That's when I decided to start making my own patterns, with one firm rule in mind:
ONLY STITCH PIECES YOU WOULD HANG ON YOUR WALL
With this in mind I went on a pattern making frenzy! I started stitching every day and churning out so many offensive but beautiful designs that I was actually hanging on my own walls.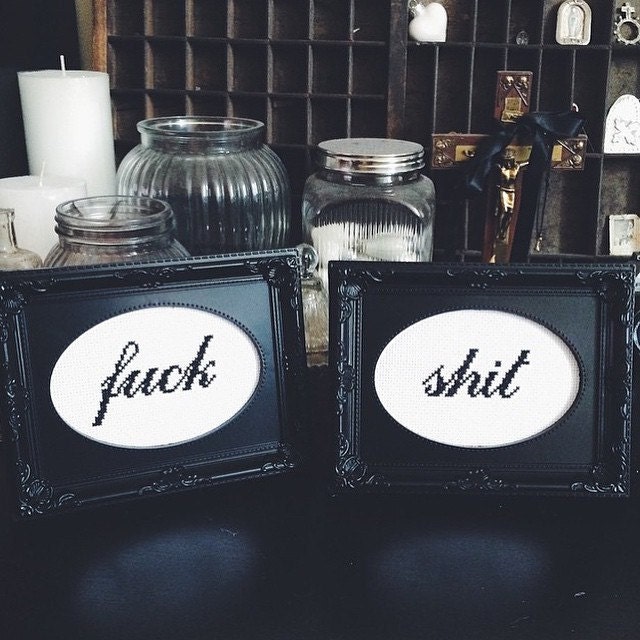 The first cross stitch pattern I created with my new rule in mind was the 'fuck' design, that has since gone on to be one of the Innocent Bones Best Sellers.
It felt (and looked) great! I was finally decorating my home with the kind of pieces that I couldn't find in the shops. 
THEN CAME THE PENNIES 
Pretty much immediately after I started producing naughty cross stitches for my home, I started getting requests from family, friends and colleagues for me to stitch pieces for them too. 
Bloody hell...people actually like what I'm doing. 
It was flattering and a huge confidence boost knowing that not only did people love what I was making, but they were willing to pay for it too. 
Not long after this I set up my Etsy shop, selling ready made cross stitches of my own design. 
It started slow, like really slow! I got maybe 10 sales in my first year through Etsy. 
I started thinking that maybe the designs were a little too offensive for other people, or maybe my prices were too high. At this point I wasn't exactly sure how I was going to turn things around. The one thing I was sure about however, was that I wasn't willing to compromise on design. I always kept in my head, ONLY STITCH PIECES YOU WOULD HANG ON YOUR WALL.
After a good hard look at my shop, and future business, I decided something needed to change. People just weren't that interested in buying ready made completed cross stitches. So what were they interested in? 
NOW THIS IS WHERE IT GETS EXCITING 
The whole time I had been selling my stitches (around 1 year now), people kept asking me how to cross stitch. They wanted to get involved and start stitching themselves but didn't know how. 
This was exciting, it's something I can help with. YEY! 
I was willingly giving advice, tips and even having stitching nights with friends to get them involved and encourage them on their beginners journey to becoming a cross stitch champion!
Then it hit me. 
I want to share this...with EVERYONE! 
I want to sell cross stitch kits. 
Kits with my designs on. 
Kits that a beginner could pick up and complete their first ever cross stitch. 
I want other people to go to have a happy place they can go to and come out of it with something fucking awesome they can hang on their walls.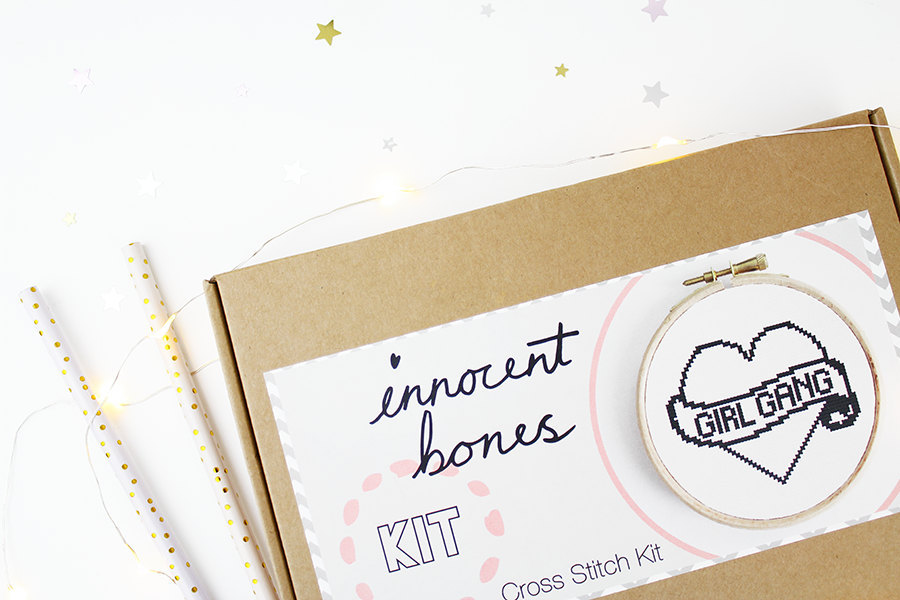 So I did. And it was a success. 
I worked on packaging, stitching guides and some best-selling patterns and BOOM the sales started coming in!
HOBBY TO LIFESTYLE
So that's the (very basic) story of how I started Innocent Bones. 
It was definitely a journey, and not always an easy one. 
I think the most important things I have learned through the entire process is not to give up, do something you love and stick to your guns. 
I feel extremely lucky to be running a business doing something I love and with such amazing support and encouragement from all the Innocent Bones customers.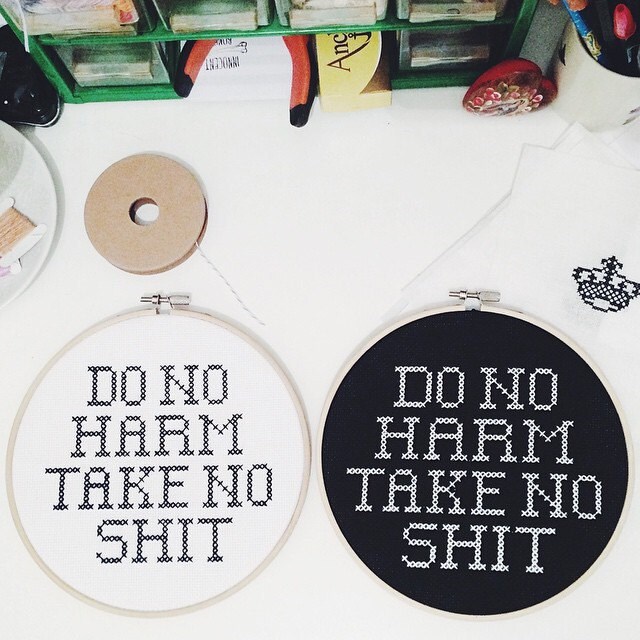 Insta @_innocentbones
www.innocentbones.com